Province of Antwerp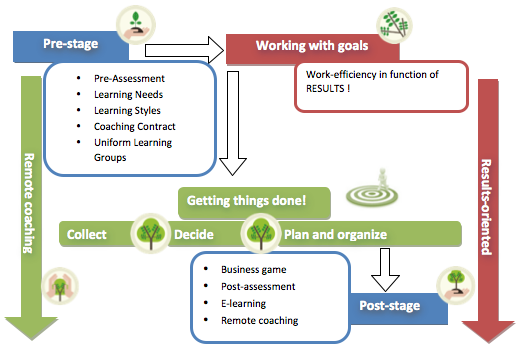 ---
The Road to... Acting Purposefully!
A blended 'work efficient' learning trajectory for the administrative workers of the Province of Antwerp (target group approx. 120 workers).
The management of the Province of Antwerp is, due to cost reductions, compelled more and more to handle its internal organization in a 'creative manner'. This will lead to employees facing an increasing workload both now and in the future. The cuts mentioned above are accompanied by the introduction of 'a new way of working' in which workers get more freedom, but are also expected to take more responsibility. This calls for an efficient and results-oriented self-organization, in short, Acting Purposefully!
Skan has developed, together with the Province of Antwerp, a Blended learning trajectory where following an individual assessment of learning needs, training, face-to-face and remote coaching, workplace learning and interim anchoring assignments merge into an integrated and result-oriented whole.
Skan has made a very strong tracking proposal based on our requirements. Their appreciative vision with attention to '70-20-10 'and preferred learning styles of participants is fully consistent with the development policy of the Province of Antwerp.
An introduction and pilot session with an enthusiastic trainer ensured that we were hooked. Upon the finalization of the project both the project manager and the trainer showed a high degree of customer orientation, flexibility and creative solution-focused thinking. We see this as a productive collaboration where those of us from the province and Skan thought about little improvement proposals to lift the trajectory to an even higher level.
The training sessions were organized according to the learning style of the participants which promotes learning motivation. The individual coaching sessions provided customized advice and support.
The trainer / coach was enthusiastic and loved and provoked much – sometimes challenging – reflection, but always in an empathetic and often humorous way. We also believe that this fun element enhanced the learning effect. The trainer had a coaching attitude: he leaves a lot of room to allow the trainee to contribute and adapts his approach and content to the needs of the individual.
We saw with a great number of participants that the process is bearing fruit. We are already looking forward to the results of the evaluations!
Koen Van de Velde
Adviseur talent- & competentieontwikkeling Provincie Antwerpen